For Michael Ferguson of Not A Wooden Spoon old floorboards are the boards that mean the world. berlinINTERIOR visited the furniture designer, anthropologist and this year's winner of the Guardian's Upcycling Competition in his studio.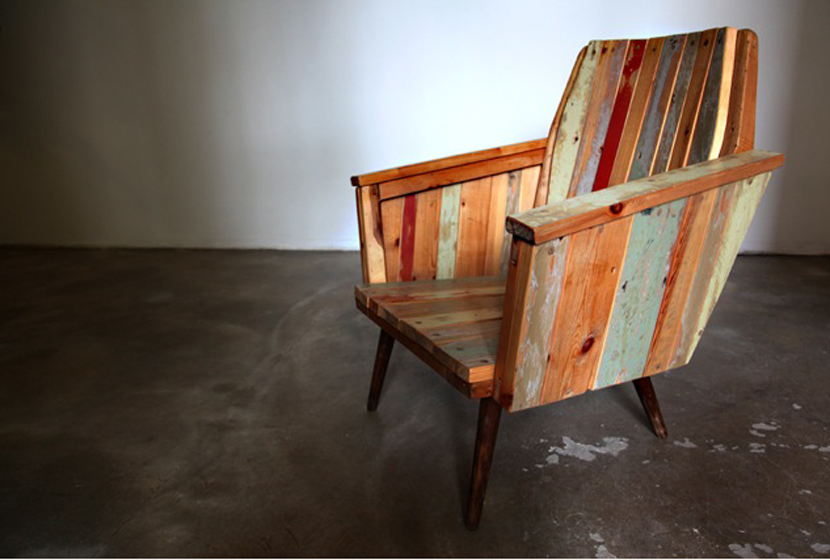 Not A Wooden Spoon builds on and with the wooden planks, that for many years loomed out of  Berlin's skips and now have become a rare commodity.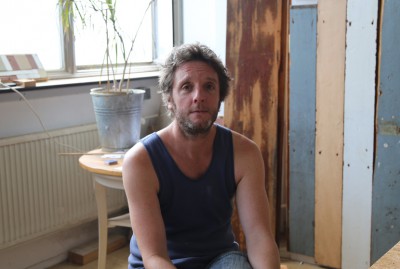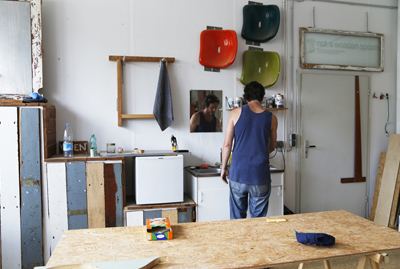 How did you get the idea to build furniture out of old floorboards?
In Australia I met a former farmer who built furniture for himself. His friends and neighbours always asked if he could build furniture for them, too and it turned out that he had more success with his furniture than with the cultivation of cotton. He opened a shop in Sydney, and that's where I discovered him. I immediately fell in love with his furniture and asked if I could work with him. He built his furniture out of old floorboards. I was working with him for a year or two and then started to design and build my own furniture. It all started in Australia, but it's Berlin that's made it become unique: The boards here are sometimes over 100 years old and can have very special colours.
Did you previously train as a carpenter or a joiner?
Before I started working with the cotton farmer, I was with a carpenter, Jack, for whom I had worked for a while, but that may not be officially called training. From him I basically learned the traits, but the material he used wan't very nice. New wood panels without any patina or sometimes even MDF.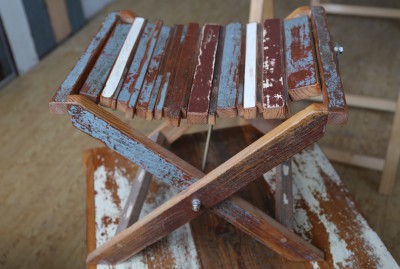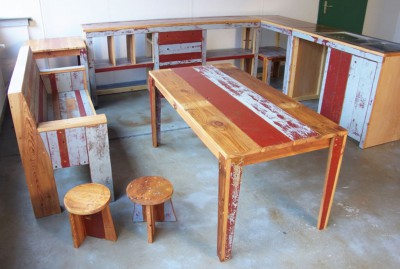 What made you move to Berlin?
Rachel, my girlfriend, was in Berlin for a visit and fell in love with the city. Although we actually met in Sydney she kept on raving about Berlin. So I went to the city for a weekend . At that time all the houses were being renovated and everywhere I looked there was material lying on the streets, which was suitable for me to build with. I instantly knew it was here I could get started with my work. Almost exactly seven years ago we arrived in Berlin. The following March I spotted my former landlord in front of his house and talked to him. I had often seen him, as he worked on his still unrenovated house and there I noticed the little store. I wasn't able to afford back then., but I asked him if I could use his shop windows as advertising space. It gave me a couple of jobs and so I could actually rent the whole store and move from my temporary studio, that used to be an old garage. It was ideal for starters because the rent was very low, and so I finally was able to found Not A Wooden Spoon.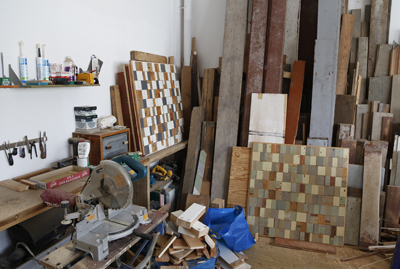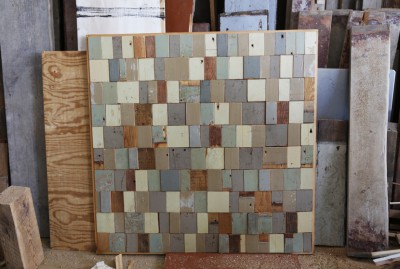 Until the year before last domiciled in the last unrenovated house of Oderberger Strasse, Michael since has moved further east to pitch tents in Hohenschönhausen: Where spying systems were produced till the fall of the Berlin Wall, a studio building for international artists recently emerged in immediate vicinity of the Stasi Memorial.
You are very tidy. At first glance everything looks chaotic, but if you look closely, everything has its place.
This must be so, because otherwise it would be a mess and I could not work relaxed. I also don't throw things away, I collect everything in small clusters. All the little pieces are so beautiful, I can not throw them away, so I add them into art. I make great pictures of it. I have already built five or six, and at some point I want to make an exhibition.
How do you develop your furniture and actually design your pieces?
I prefer to build tables, because boards are ideal for this purpose and so the material is used to its' best advantage. The remaining pieces will eventually tell me what else I can build from them, be it a lamp or a chair. Sometimes it is simply down to what I may just need for myself.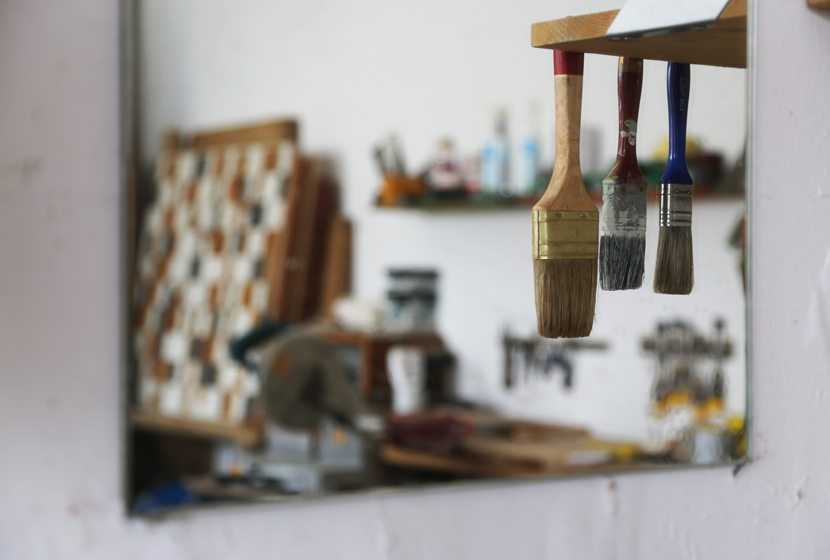 What is different about old wood compared to new wood?
Well, the main difference is the patina. New wood just looks completely different. I just love old patina, the colour, the structure, the errors. Even without colour, it is plain beautiful, it is also darker than new wood. The  planks I use are at least 100 years old and were nailed in place, they are dry and no longer work. With new wood you will already have problems after a year because it works. In England I once found wood that lay  in the seafor many years, parts of breakwaters. I  bought some of it from a farmer. The parts were completely wet, but only up to a layer of 3 mm, underneath it was just perfect. I dressed it nicely and then built tables from it. In ended up feeling like metal.
Meanwhile, Michael not only works for avid customers, but is also appraised by many business clients: For Berlin's Café Krone he created tables as well as work surfaces.