Paying hommage to the first discotheque in Europe, Berlin-based design studio Mashallah (Hande Akçayli and Murat Koçyigit)  and Apparatu (Catalan master ceramist Xavier Mañosa) teamed up for Marset to create a reduced version of the disco mirror ball …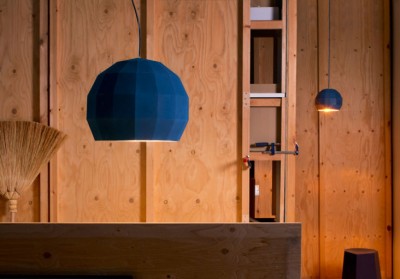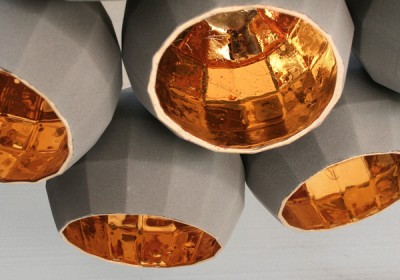 Scotch Club is a polygonal ceramic spotlight that, due to it's 72 ground facets, can either be used as a ceiling or as a table lamp.
Below a video made by Marset showing Xavier Mañosa and Mashallah presenting their collection: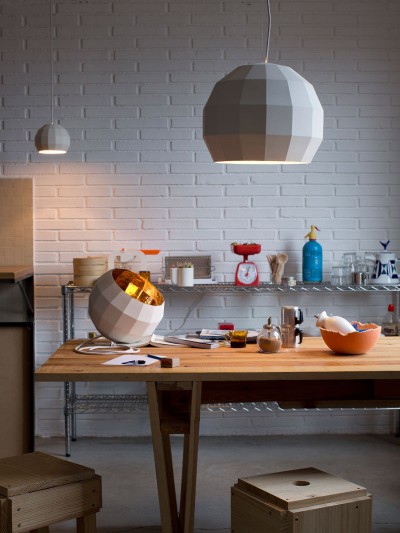 Available in white, blue, terracotta or black ceramic, with brilliant white or gold enamel interiors.
Scotch Club is already the second of Mashallah and Apparatu's  collaborations called Superfax.
In 2009 they launched their first series of lighting devices called Pleat Box – a collection of four ceramic lamps simulating familiar textile silhouettes. The exterior of the lamps is made of different sorts of recycled enamel and comes in white ceramic, underglazed red or grey clay. The interior is available in white enamel with a light-enhancing glitter effect or in gold – creating an extremely warm light.
If you want to know more about how their project started and how the lamps are made, take a look at this video produced by Marset:
Distributed by: www.marset.com
Photos and videos via Mashalla, Apparatu & Marset